LABELTEC MANUFACTURING CO is your complete source for custom labels and self-adhesive products. These are a few of the products available:
Up to 6 color Custom Labels
Direct Thermal Labels
Labels for Color Printers
Pinfeed Labels
Shelf Labels & Tags
Vinyl, Polyester, Film Labels
Permanent and Removable Labels
Cold Temperature Label
LABELTEC has been manufacturing label products to meet the needs of business for over 15 years. Manufacturing capabilities include:
Custom Color Printing
Laser & inkjet custom label configurations
Over laminating
Roll & sheet finishing
Barcoding & numbering
Specialty adhesives
Two-sided Printing
Flexo and Digital Print Capabilities
In-House Plate making
In-House Prep Department
For information on any of the above services email us at graphics@labelsys.com.

We are dedicated to your success, because we believe Your success is our success!

What does it take to help you reach your goals? At Labeltec we believe it is having a company that makes products guaranteed to work in your application - adding to your bottom line through effecient and timely production.
Click Here
Fill out our easy to use quote form to get pricing on your custom labels and tags.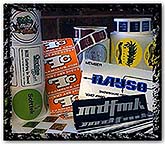 Be sure to check out some samples of our labels and tags.
In order to better serve our customers, we have highly trained personnel to help you with your label needs. If you have any questions or comments , please do not hesitate to contact us.